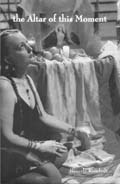 The Altar of this Moment
by Beverly Rainbolt
ISBN 0-916620-94-8
82 pages $20
A frequent reader and performer in Shreveport and New Orleans, Beverly Rainbolt earned her MFA from the University of New Orleans. Her works have appeared in Quarterly West, Sojourner: A Women's Forum, From a Bend in the River: 100 New Orleans Poets, and The Maple Leaf Rag: 15th Anniversary Anthology. She was a 1999 Associated Writing Programs' Intro Journal Project national winner.

"In [the Altar of this Moment] we follow an 'I' that is at once historical, mythical, and modern-post-modern, across a Southern landscape in which there is 'a poem on every corner.' Because poems live everywhere, Rainbolt shows us they can be made from anything . . . . [T]hese poems . . . remind us of those things we should 'never forget.'" - Kay Murphy, author of The Autopsy and Belief Blues.
"In the Altar of this Moment, Beverly Rainbolt gives us poetry that is full of wit, verve and immediacy. Both feminine and feminist in the best sense of the words, these pieces are alive, almost leaping off the page with their specific urgencies. They are poems that I will read again and that I will recommend to my women friends." - Rosemary Daniell, author of Fatal Flowers: On Sin, Sex and Suicide in the Deep South, Confessions of a (Female) Chauvinist, and other books.