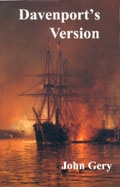 Davenport's Version
by John Gery
ISBN 0-916620-58-1
236 pages $20
Set in New Orleans during the tumultuous Civil War, Davenport's Version relates the story of a Creole widow, a Confederate cavalryman, and a Union captain. This remarkable, five-part poem, narrated by Captain Davenport, draws on classic texts as it reflects on love, loss, memory, politics, peace and the human condition.

"Davenport's Version will be remembered when much fashionable contemporary work is forgotten. I would compare it favorably with Hart Crane's The Bridge." Frederick Turner, author of Genesis and The New World
John Gery is a Research Professor of English at the University of New Orleans. He has served as Director of the Ezra Pound Center for Literature at Brunnenburg Castle, Italy, since 1990.
Gery's previous collections of poetry include: Charlemagne: A Song of Gestures, (Plumbers Ink), The Enemies of Leisure, (Storyline), An American Ghost (Raska Skola & Cross Cultural). He is also the author of a critical study, Nuclear Annihilation and Contemporary American Poetry: Ways of Nothingness (Florida).
His poetry, criticism and reviews have appeared in American Literature, Chicago Review, George Washington Review, Kenyon Review, The Iowa Review, Louisiana Literature, New Orleans Review, Notre Dame Review, Paris Review, Poet Lore, Southwest Review, and Verse. He has received awards from the Academy of American Poets, the National Endowment for the Arts, the Louisiana Division of the Arts, and Deep South Writers.